Discovering the prestigious "Trifola"
Two shadows in the darkness, late in the evening: they are the truffle hunter and his truffle dog. A man and a dog carefully patrolling the woods in precise places, where nature rewards those who look for its treasures.
The dog smells the scent, runs towards a tree and starts digging, the truffle hunter reaches the tree and lets the dog dig until he sees the truffle emerging from the soil. The truffle hunter picks it out carefully, he has just collected a precious stone of the Langhe. Between mystery, past and present: the truffle hunter is always there, ready to find that unique mushroom.
Ezio is a great truffle hunter, he has been doing it since he was a young boy, when the truffle hunt was a sort of a job. It was a passion and a need which allowed preservation of some woods that host trees which are suitable to support the growth of this mushroom. Among these there are the oak trees, under which Ezio and his dog find white and black truffles. "Tra Arte&Querce" is not only a restaurant and an accommodation facility: Ezio organize guided tours in the woods in search of the precious diamond of the Langhe, you can experience the unique emotion of the truffle hunt, following him through the woods.
The truffle hunt lasts around one and a half hours, walking along the paths you listen to nature – almost in a religious silence, broken only by the excitement of the dog which digs the soil and by the careful movements of the truffle searcher, Ezio, who brings the truffle to light.
The Langhe are the "black and white truffle world", in which the sounds of nature, the scents of undergrowth and respect for the trees have made this place in the south of Piedmont a unique and charming destination.
Truffle hunts take place from the summer to December: for information call 0173/792156 – 338/9081666
White Truffle of Alba
the tuber magnatum pico, called "trifola" in piedmontese, is the most prestigious quality of truffle. It can be found in the Langhe area, in the Roero region and in some areas of Monferrato. Perfume and taste are unmistakable, and it is considered a prestigious typical product. The price depends on the seasonal production and to several quality features. It is collected from the second half of September to December, the International Fair of the White Truffle of Alba celebrate this exclusive product.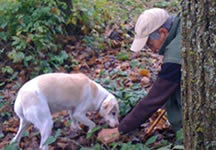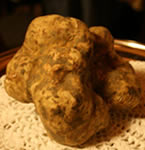 Black Truffle
it includes several species and can be collected in several periods of the year depending on the species present in the Langhe, the most known is the "Scorzone" (Tuber aestivum Vittad) and its good quality makes it a tasty and less expensive truffle. In the Scorzone you can find all the aromas of the woods, with an intense and delicate perfume.